Their Story (so far)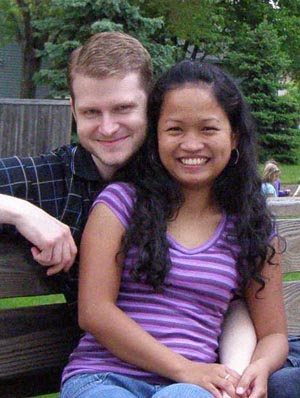 When Carl and Lala met, he had been in the DC area for five years. She'd been there ten days!

Originally from the Philippines, Lala had been in Houston doing civil engineering work. With the economic slowdown drying up some of her work, she decided to take a leave of absence. While she considered going back home to the Philippines, she eventually decided to come up to Maryland to stay with her best friend for a while.

There was a combined activity between the Colonial 2nd Ward (where Carl attended church) and the D.C. 2nd Ward (which was Lala's new ward). It was a rotational dinner, where everyone moved to a different table between courses. When Carl went to his second table, he sat next to his friend, but mentally kicked himself for not having the courage to sit next to the lovely woman that he saw on the other side of the table. Eventually, they all rotated to random tables again, and they were both assigned to the same table for the second time. He saw Lala heading toward his new table, and motioned for her to sit by him. Forty-five minutes of talking later, he had a phone number, and the rest is history!
From Lala
I sat next to you at the dinner, we said hello
We laughed and talked till it was time to go
You asked for my number, sure, I smiled
I'm glad you took courage, I'm glad you tried

Dinner at your place was our very first date
Followed by many more, I was usually late
Parks, movies, cooking, walking, talking, reading
I liked hugging and cuddling but not the quizzing

Cherry blossom festival was amazing and fun
I enjoyed our laughter and playing under sun
Hesitantly reached for my hand, you were shy
I'm glad you took courage, you did at least try

I doubted and feared, did not know what to do
Should I give love a try, will I be happy with you?
Thought about it, prayed hard, I wanted to know
I'm glad you stayed by me and did not let me go

One by one my doubts began to go away
Your love made me wish you would stay
Here beside me to hold tight and to care
We have many stories and memories to share

With you I feel special, I'm one happy woman
Feel blessed for the love of a wonderful man
Slow to criticize, encourages, in love you believe
Happiness and joy, to you I want to freely give

From Carl
Once upon a time there was a man who was quite sad.
Lonely and bored, he thought, "Maybe I should just be bad."

Life needs romance, purpose, and kids.
Without these, he thought, "Who gives?"

With determination and grimness, he kept on his toil,
Planting relationship seeds in the singles ward soil.

Then with a smile on his face, he tried a new place,
And found Someone by God's good grace.

The woman he met set his heart all a flutter
(or maybe his mind was simply in the gutter).

But gutter or flutter, one thing is true,
This woman loves Jesus and also you know who.

So they talked and they talked, and sometimes disagreed,
But they hope to find in each other a major filled need.